Walkthru: Adventures in Onett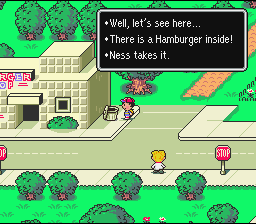 Once you've obtained the Sound Stone, make your way out of the Minch's house. You can go back home to rest up, and when you do, you will be stopped by a photographer. Ness will pose for the camera, and a photo will be taken. Just what is this for? You'll have to wait a long time to see (I'm not kidding). Anyways, head on over to the library and check out a Town Map. It isn't necessary to do so, but it would come in handy. To the left and just above the library, you will see a dirty looking boy. Just to his right and in the trees is a treehouse. Talk to the boy in the red hat to obtain a Mr. Baseball Cap. Head on over to the burger shop and inspect the trash can for a Hamburger (yes, you can get a Hamburger here, and it is edible too). Head on over to the drug store and withdraw some money from the ATM. You should buy a Tee-Ball bat to up your offense, and if you can afford it, get a Cheap Bracelet too.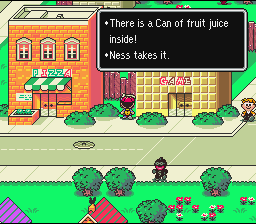 When you are fully equipped, head on over to the Arcade, where you'll be attacked by members of the Sharks, a local gang. You can also inspect the trash can near the Arcade to get a Can of Fruit Juice (what's up with food being in trash cans?!?) Anyways, level up to around Level 8 or so, then beat up one of the Shark members and confront Frank. After beating Frank, he will send Frankystein Mark II. Upon defeating both of them, Frank will abandon his gangster ways and go straight. If you go back in the Arcade, then back to Frank, he will heal you. Make your way to City Hall, and talk to the mayor. Obtain the Key to the Shack, and go to the Travelers Shack and proceed to Giant Step.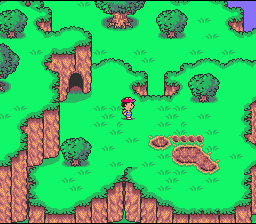 Many enemies lurk around Giant Step, including the Rowdy Mouse, who does a Smaaash attack quite often, and the Black Antoid, whose regular attacks can yield double-digit damage. Be sure to bring a lot of HP recovery items, and if necessary, use Lifeup a. Once you work your way to the top of the first cave and exit, a Butterfly may be waiting for you. If you don't see it, keep entering and exiting the cave until it shows up. Continue your way up through the caves. At the top of the cave, you will be at Shining Spot, where you will fight the Titanic Ant. After defeating the Titanic Ant, take the exit behind him, and record the melody at Giant Step.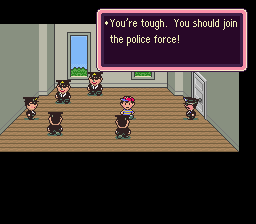 As soon as you make your way out of the caves at Giant Step, a cop will be waiting for you, and tells you to go to the Onett Police Station. Heal up before heading over to the police station, and make sure you have good armor on, and PSI Rockin. Talk to the captain of the police force, who will take you to the back room, not to be interrogated, but to kick the crap out of you. He will send 5 of his comrades to fight you. You only need to beat up 4 of them, before the 5th one retreats and send Captain Strong to fight you. He lives up to his name, but he can be easily managed. Upon defeating him, head on south and make your way to Twoson.