Walkthru: Trouble in Twoson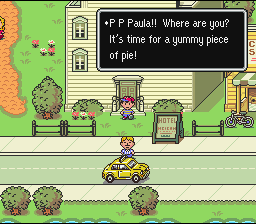 Twoson has many different places to visit, but the first place you may want to visit is the Polestar Preschool. Paula's dad will be waiting in a room, and when you introduce yourself to him, he will look for Paula. He returns and tells you to check back later. Resting at the hotel reveals another psychic connection, this time Paula says there is running water nearby. When you leave the hotel, Paula's dad runs by saying he has a yummy piece of pie. When you talk to him, he believes Everdred in Burglin Park may know something. Go talk to him.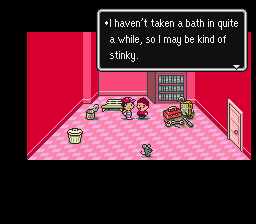 On your way to the Apple Kid's house, you will see the house of the Orange Kid, a rival of sorts. Whatever you do, don't bother with him, because his inventions will be a waste of your money and inventory space. When you get to Apple Kid's house, he will ask for something to eat and $200. Of course, if you have a Cookie, give it to him, but he would even take a Ketchup packet or Sugar. Anyways, make your way to the Peaceful Rest Valley, which is to the right of the Bus Station, but before you do, go to the Mach Pizza branch, and get their phone number. Partway through the Valley, you will see a Pencil-shaped statue blocking the way. Make your way back to Twoson and you will receive a phone call from Apple Kid, telling you to see him. Go to Burglin Park and get the Pencil Eraser from him, then back to the valley. Use the Pencil Eraser to remove the statue.

Work your way through Peaceful Rest Valley, picking up items and leveling up along the way. Once you make your way through a cave, you will end up in Happy Happy Village, where a cult has taken over. You will notice that everything is a shade of blue, and the townspeople have a blue obsession. Enter the cave to the left of the drug store, and make it to the shack. Paula will be locked up here, and you will have to rescue her. She will give you the Franklin Badge, which you will need in an upcoming battle. Make your way to the large building in the center of town, going through a maze of cult members. When you make your way through, Carpainter. Defeat him, and get the Key to the Cabin. Use it to unlock the cell, and Paula will now join your party.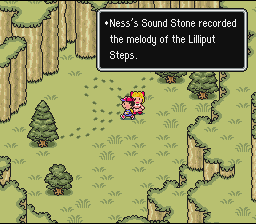 The town will be back to its normal color now, and the townspeople will speak of the Lilliput Steps in the Eastern Cave. Go there to check it out, but be sure to give Paula good armor, as she will be very weak. The eastern caves have some items which will be useful, along with some tough enemies. work your way through the caves, leveling up Paula, and make sure to level her up so that she learns Freeze

b. Make you way through the caves, and you will meet up with Mondo Mole. To make the battle easy, Ness should use PSI Flash and Paula should use PSI Shield on herself. When the battle is over, record the melody at Lilliput Steps, then return back to Polestar Preschool in Twoson.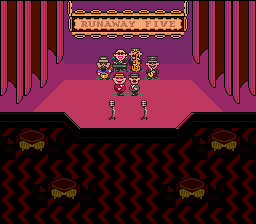 When you leave the preschool, someone will tell you that Everdred is looking for you. Visit him at Burglin Park, and he will give you a Wad of Bills. Go to the Chaos Theater, where some members of the Runaway Five will give you a Backstage Pass, and ask you to check out their show. Accept their offer, and go in the Theater to see their performance. When you make it backstage, the members will tell you that they are in debt, and they want to get out of there. Sit back and enjoy the show (FYI, the keyboard member is not part of the R5). After catching their show, talk to the theater manager, and give him the Wad of Bills. The Runaway Five will be free to go, and to show you their gratitude, they will take you to Threed, the next leg of your journey.