Walkthru: Showdown Against Giygas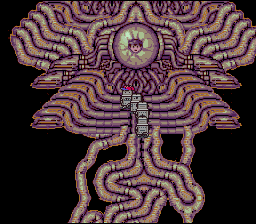 Ness and the rest of the kids are now robots, and are now in the past, left to face Giygas. The road to him isn't exactly easy. Powerful enemies litter the way. You can fight them and level up quite a bit. You can also use the Phase Distorter 3 as a way to repair yourselves (like resting at an inn), and to communicate with your father. Along the way, you will find the Legendary Bat. When you see a floating orb, touch it and you will be transported to another section. Make your way around, until you see a cave. Keep making your way up, and eventually, you will reach Giygas. There will be a rumbling, and Pokey will appear.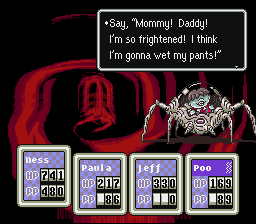 You will now engage in battle, with Giygas and Heavily Armed Pokey. Start concentrating your attacks on Heavily Armed Pokey. Ness should use regular attacks, and if the party needs it, use PSI Healing. Paula should use her PSI Shield

b or S. Jeff should fire Multi-bottle Rockets at Heavily Armed Pokey. Poo should use PSI Starstorm W. After a while, Pokey will start talking, and turn on the "Devil's Machine", claiming Giygas can no longer think for himself. You will now fight Giygas. Ness should attack and heal. Paula should use PSI Freeze, or Offense Up, Jeff should use regular attacks, and Poo should use PSI Starstorm. After a while, Pokey will appear, blab on more, and when he disappears again, the final battle will engage.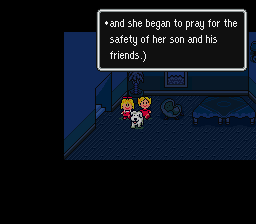 Have Ness heal and use his regular attacks. Jeff should fire the Heavy Bazooka. Poo should use PSI Starstorm, or heal. And most importantly, Paula should Pray. The first time she prays, Dr. Andonuts, the Apple Kid, Gerardo Montague, and the Mr. Saturns will pray for Ness and the rest, and Giygas's defenses will be unstable. Keep repeating the pattern, making most certain Paula stays alive. Paula's second prayer will be heard by the Runaway 5, and Giygas will be damaged. Paula's third prayer will be heard by her father, and he, Paula's mom, and the kids at the Polestar Preschool will pray for their safety. Her next prayer will be heard by the kids at the Winters Boarding school, who will pray for Jeff's safety. Her fifth prayer will be heard by a woman in Dalaam, who prays for Poo's safety. Paula's sixth prayer will be heard by Frank, who prays for Ness's safety. Her seventh prayer will be heard by Ness's mother, and she, Tracy, and King will pray for Ness's safety.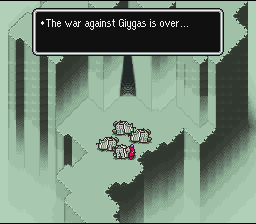 The scenery will now change, and it seems Giygas has become more unstable. Continue the pattern and Paula will say that she can't think of anyone else, and her prayer falls into the darkness. Regardless of this, have Paula pray one last time. Her prayer will be answered by someone, who's name is censored out, but as Giygas is damaged more, the one answering her prayers is YOU! Yes you holding the controller! Giygas has now been defeated, and Pokey will make another appearance, and run away. He claims he will be going to another era, then leaves. The war against Giygas is now over, and its time to see the ending.