Walkthru: Mysterious Magicant and Preparation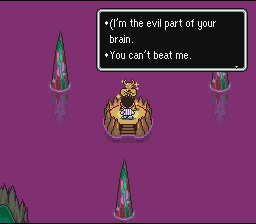 You will notice that your Mom and Tracy are outside on a couch. You can talk to Tracy to store/check out items. Magicant is the only place where you can buy Magic Pudding and the Earth Pendant, so you should get them. If you talk to the citizens here (and various objects), the colors will change here. As you travel, you will encounter a the house of the Flying Man. There are 5 of them, you can only have one at a time, and they are the only help you get in Magicant, so recruit them. Make your way around the place, and touch the swirly statue when you reach it, and you will be transported to the Sea of Eden. You will fight Krakens on your way to your goal, which is the Mani Mani Statue, Ness's Nightmare. Defeat it, and Ness will gain a lot of levels, get major stat boosts, and learn PSI Teleport

b. Ness will learn he has to travel to Saturn Valley. He will be filled with the essences of the "Your Sanctuary" locations, awaken and the Sound Stone will shatter.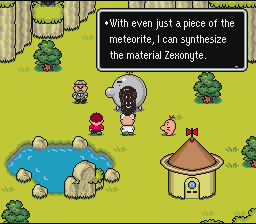 When Ness awakens, the rest of the party will ask Ness about what is in Saturn Valley. The party will be teleported there automatically, where Dr. Andonuts, the Apple Kid, and George Montague will be waiting, along with a Mr. Saturn shaped contraption. Talk to Dr. Andonuts, and he will explain to the prototype for the Phase Distorter has been stolen. When you try to enter the Phase Distorter, it won't take off. Dr. Andonuts will explain to you he needs some Zexonyte, which comes from meteors. Tell Dr. Andonuts you know of a meteor that fell recently, and warn you that Onett may have fallen in Giygas's hands. He will also tell you the store in Saturn Valley Village has new merchandise. Get everyone rested up and ready to battle, then teleport to Onett.

Once you arrive in Onett, you will notice the sky is dark, the eerie alien music is playing, and there are aliens roaming the streets. No one, not even hotels, will open their doors for you. You can rest at your home, where you house will be dark, except for Tracy's room. This is a great place to earn major levels for your party, who are relatively weaker than Ness at this point. When you are satisfied with your party's level, make your way to the hill where the meteor crashed. Check the meteor and get a Meteorite Piece. Once you get it, teleport back to Saturn Valley Village, and give the Meteorite Piece to Dr. Andonuts. Take a rest, then talk to him again.

The Phase Distorter 2 is now ready to go. Talk to him, and make ABSOLUTELY SURE you are all equipped. Have a good supply of healing items (Horn of Life, Magic Truffle/Pudding/Tart, Secret Herb), and Multi-Bottle Rockets because you won't be able to use Escargot Express, go shopping, or anything else when you enter the Phase Distorter 2. You will be transported to a cave in the Lost Underground, where Poo's will be able to learn Starstorm

W. The broken Phase Distorter has a Horn of Life in it. Walk around a while, then Dr. Andonuts and the Apple Kid will appear. Talk to them, and Dr. Andonuts will explain he explains to bear Giygas, you need to warp to the past in the Phase Distorter 3. Living beings can't be transported, so he suggests your spirits be programmed into a robot, which will be sent in the past to battle. Accept and Dr. Andonuts will program the party's spirits into robots. Dr. Andonuts will see you off and the Phase Distorter 3 will take off to the past.